Introduction
C800 Rotating Tablet Press Machine is mainly used for pharmacy industry, but it is also fit for use in the chemical, food, electrical, metallurgy, and everyday product industry. It can compress almost any kind of raw material into any kind of tablets: circular tablet, abnormal shaped ablet, graphical tablet, double sided letter tablet, and it can even redesign the tablet to cope with the user's need. The 800 series is especially suitable for the pharmaceutical R&D center; university labs; and hospitals and drug stores that requires a large-scale production.
Advantage
Each tablet is with in 1% of the average tablet weight.
Final product percentage of passing: >99%
The tablets are formed by two process of compressing: pre-compressing and main compressing.
Machine come with pressure overload warning, emergency stopping and malfunction warning.
This machine is capable for 1/2/7/14 stations production.
Single tablet weight difference: < 0.3g ±5%, ≥ 0.3g ±3%
The continuously adjustable main pressure spring supports the machine.
Display data such us formation pressure and production speed etc.
Powders are force filled by the double propeller.
Sealed compressing chamber, designed to meet the GMP standard.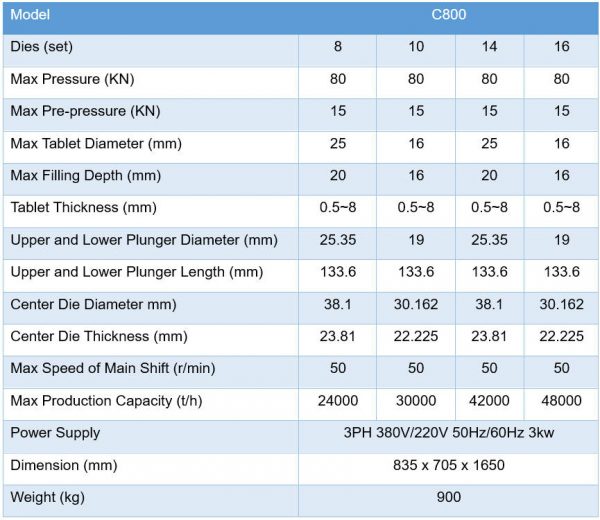 Product samples