Click here to watch the video clip of the machine.
Advantage
Capsule vacuum positioned mechanism to make the capsule qualified over 99%.

Removable powder hopper for cleaning and easy auger adjustment easy to change fills weights.

Easy speed selection and closed capsule length adjustment.

Electrical Appliance control system approved to CE, and international standard.

Quick and accurate change part set-up, easy to remove rotary table and ring carrier assembly.

Fully enclosed dosing stations and rotating table for integration of the whole capsule filling plants.

Large cam mechanism keeps the rotating table of mould together with the whole equipment running with balance, and completely guarantees the machine operating with highest precision and accuracy.

Improved the inner design of Mould rotating table, Import 90 pcs beeline bearings for each machine from Japan directly, guaranteed the equipment precision and extended the life of machine.

Enlarge the size of dosage pan (Enlarge 3cm); Increase the powder flowing uniformity in the dosage pan, according to the international standard.

Adopt three dimensional control elements; Take the undersurface plane of dosage as datum, so as to eliminate the natural transmutation of the dosage pan and copper saucer. It's the special design at domestic.
Brief introduction
This automatic capsule filling machine is developed by our company and absorbed advanced technologies at home and abroad. The machine has features of elegant, smooth, low noise, easy to operate, and superior in performance.
Application
Pharmaceutical, medicine, and chemicals (powder, Pellet, granule, pill), also can be used to fill vitamin, foodstuff and animal drug, etc.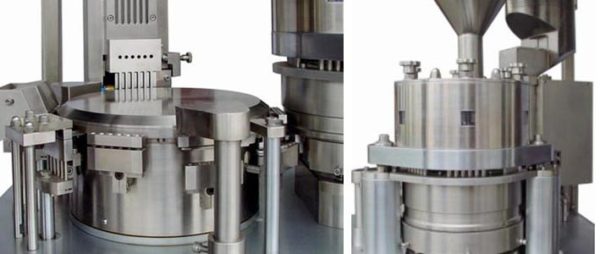 Click here for larger capacity models if this automatic capsule filling machine NJP-820C doesn't meet your requirement for production capacity.
Model

NJP-820C

NJP-420C

Output

820pcs/min

420pcs/min

Machine weight

900Kg

800Kg

Machine imensions

840×960×1800

730×950×1700

Power Supply

380V/220V, 50Hz

380/220V, 50Hz

Total power

Motor 1.5kw

vacuum 1.5kw

dust 1.5kw

Motor 1.1kw

vacuum 0.75kw

dust 1.1kw

No.of segment bores

6

3

Vacuum

20m3/h, 0.04-0.08Mpa
20m3/h, 0.04-0.08Mpa

Dust

17.6Kpa, 180m3/h
17.6Kpa, 180m3/h

Noise

<80DB(A)

<80DB(A)

Making rate

Empty capsule 100%

Full capsule over 99%

Empty capsule100%

Full capsule over 99%

Suitable for Capsule

00, 0, 1, 2, 3, 4, 5#

00, 0, 1, 2, 3, 4, 5#

Filling error

±2.5%-±3.5%

±2.5%-±3.5%